I see I've gotta a few new followers, Yay & welcome!! I know I've been
a bit behind on updating my blog. I'm really sorry about that,
I was quite sick for almost two weeks. And now I'm in the process
of getting all caught up. (This may take a while)
I also wanted to mention that the Blooming Bear Show
preview starts at midnight tonight east coast time. Which
here in Colorado, USA will be at 10:00pm. I usually turn
my laptop off at about 8:30-9:00pm, but tonight I am going
to wait to sign-off so I can see the preview.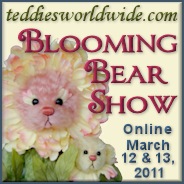 Click the image to see the preview!!!
Also I will have a new non-show bear available
for adoption in the next couple days.
So please check back and have a look at my new
bear. It's going to be a panda style! I love the
panda style and haven't done one in a while
so the time has come!!
That's it for now, gonna go rest my shoulder now.
Ta Ta
&
Hugs!!!
Kelly Jo